World leaders often use bellicose language, but countries are fortunately not quick to go to war. Using 'quiet diplomacy', among other things, attempts are made to maintain good relations between states. It was this diplomacy that formed the subject of the books by Abraham de Wicquefort (1606-1682), who was interned in the Prison Gate between 1675 and 1679. His diplomatic talents also proved useful during his imprisonment.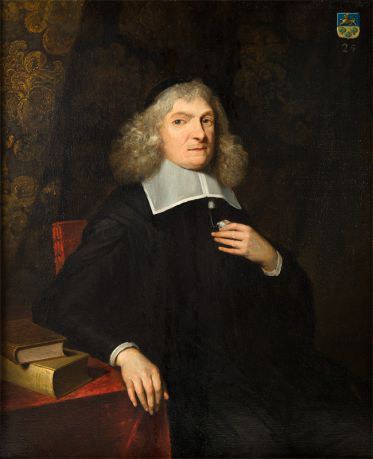 What dubious double-game was De Wicquefort playing?
For over thirty years, Abraham de Wicquefort worked as the representative of the Prince of Brandenburg at the French Court. At the age of 52, he was arrested for espionage and imprisoned in the Bastille in Paris. He was charged with passing state secrets to Holland, to the Grand Pensionary Johan de Witt. Three months later, the French Prime Minister, Cardinal Mazarin – the same person who had had him imprisoned – began to pay him a princely annuity, which he continued to receive for many years. What double-game was De Wicquefort playing?
A key figure in the network of monarchs and governments
Once back in the Republic, De Wicquefort started working as a translator for the registry of the States General. In this position, he got to see many letters to and from foreign sovereigns. Johan de Witt also made him the official historian of Holland, meaning that he got access to all confidential documents. Moreover, in 1665, De Wicquefort became the official envoy of the King of Poland, and in the same year he became the ambassador of the dukes of Brunswick and Luneburg. His trial would later reveal that he had passed on news to almost all the sovereigns and governments of Europe, something that earned him many rewards.
Why De Wicquefort had a custom-built cell
In March 1675, the Prince of Orange happened to read two letters that showed that De Wicquefort was passing on sensitive information to enemy states. He informed the president of the Court of Holland. The latter immediately had De Wicquefort arrested for high treason; a crime that was punishable by death.
'But De Wicquefort, who was interrogated 36 times, did not confess – not even on the rack.'
He was sentenced to life imprisonment, still extremely uncommon at that time. This gave rise to the following problem: how to imprison him? The Prison Gate did not have any cells for such punishments. There was nothing for it but to build a special cell in which De Wicquefort could spend the rest of his life.
How the spy nevertheless managed to escape
De Wicquefort was immediately put under maximum security. There were also tight controls to ensure that his daughters did not smuggle in any instruments that would allow him to escape. In the end, it was all in vain. In February 1679, Jannetje van Egeren, the warder's maidservant, was bribed to help De Wicquefort escape. When the warder was at the market and his wife lay sick in bed, Jannetje opened the doors and allowed the spy to get away. As a result, Jannetje also had to take to her heels, but De Wicquefort's daughter only gave her a fraction of the reward she had been promised.
A successful escape with a tragic outcome
De Wicquefort managed to escape to Germany, where he wrote, among others, L'ambassadeur et ses fonctions (1682); a book that would later have a significant influence on thinking on diplomacy and the organisation of embassies. For Jannetje, the story had a tragic end. On a visit to Amsterdam, she tried to persuade De Wicquefort's son to give her some money. Her own husband betrayed her to the authorities, however, pocketing the prize that was on her head. Jannetje was sentenced to a public flogging and six years in a house of correction.